This post is so TOTALLY BIASED, because when it comes to Yuuri/Wolfram I'm COMPLETELY AND HAPPILY UNOBJECTIVE.

For
unmei999: Here's the Conrad-Wolfram-Yuuri-Shouri image! It's from the KKM booklet in February's Animage.



watch where Wolfram's hands are :D

This image made me +
milalyr TAKE OVER
ambiance's LJ with RABID COMMENTING. ATTEMPTS TO CONTROL. :D Because as
ambiance rightly says, THIS IMAGE IS FULL OF WIN AND CUTE. AND IT IS.


milalyr rightly says this image is a maze of molestation. ♥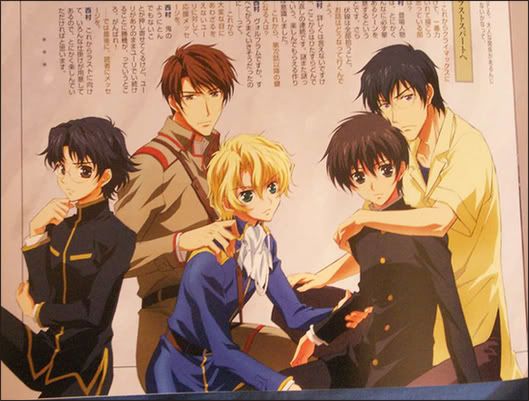 For
evercool, the unconscious!Wolfram-being-held-by-Yuuri image you wanted is from the February Newtype, and here it is. TOTALLY AND COMPLETELY HAVE
risax and
farfello FOR HELPING ME ACQUIRE THIS BECAUSE THE BOTH OF THEM ARE SO MUCH LOVE besides being Nii-san and Kaa-san. SOBS because
risax SLICED UP HER FEBRUARY NEWTYPE SO I COULD HAVE THIS AND THE SHINOU AND YUURI UP TO NO GOOD IMAGE. And because
farfello HAS WAY COOL RAZOR SLICING SKILLS. *HUGS YOU BOTH SO TIGHTLY*

! There is a great scanned version of this already! ♥


and he says JUST HOLD ME.
Conrad is clearly saying, "YUURI YOU MUST BE STRONG."
And Yuuri is, "WOLFRAM I WILL AVENGE YOU."
OH MY GOD the break-my-heart GOOD!KKM is just NOT THE SAME AS THE Break-my-BRAIN! Good.






And this is the cover of the Photo Book collection you wanted:


I MEAN EVEN IF THERE IS THIS CONRAD AND YUURI IN THE SNOW PICTURE WHICH IS SO SO SO SO HUGE I HAVE TO CLIMB ON MY BED TO PHOTOGRAPH THE WHOLE THING AND I AM ... YES THIS IS CONRAD/YUURI... IN THE SNOW... BUT LOOK THIS PICTURE BELOW IT MAKES ME HAPPY!!!!






Because Nii-san knows how to DO THINGS RIGHT, when she first saw this picture she was >D "I think you're going to like this," and then she CLOSED THE BOOK but kept holding on to where this page was, then slid it over to me so I could open it and look at it myself.

AND THEN I BURST OUT GIGGLING UNCONTROLLABLY AND COULDN'T STOP FOR THE NEXT MAYBE FIVE MINUTES.



The Shinou solemnly swears HE is up to no good. AT ALL.








why do you look at me with those eyes
this fire is out of control.

SOBS when Wolfram looks at Yuuri like that I am YUURI YOU ARE SO BLIND.